We're proud to be a part of Win With Wellness!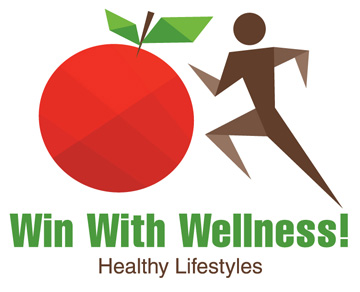 Win With Wellness is a community-based wellness initiative aiming to help people live healthy lives through better food choices and regular exercise. Participants learn more about the importance of healthy eating and physical activity, and tools are provided to help reach goals in these areas.
Healthy eating behaviors are encouraged through the Taking Off Pounds Sensibly (TOPS®) program, a national weight-loss support group that's helped millions of people for over 60 years with weight loss and improving health by focusing on improvement, rather than perfection. Another element of Win With Wellness is the Heart To Heart program, where educators help participants build skills for healthier eating and getting more physical activity.
The Win With Wellness team of healthcare and wellness specialists is available for community-based presentations about how to enjoy a healthy lifestyle. Presentations can be arranged at almost any time or location, including worksites.
Businesses or groups interested in setting up a TOPS® group or looking for a speaker on a health and wellness topic can call 1-866-590-8499 to arrange.
As one of the Win With Wellness partners, FHN is pleased to be working with the Stephenson County Health Department, the Carroll County Health Department, the Monroe Clinic, the United Way of Northwest Illinois, and the National Center for Rural Health Professions and Department of Family and Community Medicine (UICOM-R) at the University of Illinois College of Medicine at Rockford to make this important wellness program a success!
Hear more!
Listen to partners in Win With Wellness interviewed on Big Radio...
Download
0:13:28
November 27
Mary V. Wedel MSN, RN-BC, Nurse Health Coach
Download
0:10:42
October 10
Warren Vincent
Download
0:07:17
September 20
Alice Engelkins, TOPS Chapter Leader
Download
0:09:01
September 19
Janet Vrtol, BA, ACA Navigator/Counselor & Community Health Worker Stephenson County Health Department
Download
0:0:42
September 19
Craig Beintema, MS LEHP CPHA
Stephenson County Health Department
Download
0:06:30
September 12
Laurie Youngblood and Savanna Shadle
Download
0:09:21
September 12
Ronette Wenberg, TOPS Area Captain
Download
0:10:40
January 4
Jennifer Cilino-Folks, PsyD, FHN Director of Behavioral Health
Download
0:47:44
January 3
Manorama Mocherla Khare, PhD, Research Assistant Professor at the UIC College of Medicine at Rockford, Division of Health Policy and Social Science Research, Department of Family and Community Medicine and Martin MacDowell, DrPH, MBA, MS, Research Professor and Associate Director Health Professions Education, Dept. Family Medicine - National Center for Rural Health Professions and Dept. of Pharmacy Administration, College of Pharmacy, UIC College of Medicine at Rockford
Download
0:16:04
November 16
Vicki Hooper, UIC College of Medicine at Rockford and Martin MacDowell, DrPH, MBA, MS, Research Professor and Associate Director Health Professions Education, Dept. Family Medicine - National Center for Rural Health Professions and Dept. of Pharmacy Administration, College of Pharmacy, UIC College of Medicine at Rockford
Download
0:18:51
October 19
Craig Beintema, MS LEHP CPHA
Stephenson County Health Department
Download
0:07:56
October 5
Holly Calcaterra, Program Manager, Well Woman (IBCCP/WISWEWOMAN) Stephenson County Health Department
Download
0:15:35
October 5
Janet Vrtol, BA, ACA Navigator/Counselor & Community Health Worker Stephenson County Health Department
Download
0:12:55
September 21
Jennifer Cilino-Folks, PsyD, FHN Director of Behavioral Health
Download
0:17:49
September 8
Manorama Mocherla Khare, PhD, Research Assistant Professor at the UIC College of Medicine at Rockford, Division of Health Policy and Social Science Research, Department of Family and Community Medicine
Download
0:10:15
September 7
Tammie Evenstad, Community Outreach Specialist, Monroe Clinic
Download
0:11:10
August 23
Janet Vrtol, BA, ACA Navigator/Counselor & Community Health Worker Stephenson County Health Department
Download
0:08:37
August 4
Jennifer Cilino-Folks, PsyD, FHN Director of Behavioral Health
Download
0:11:11
August 3
Tiffany Nieman, Executive Director of the United Way of Northwest Illinois