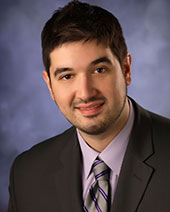 Contact Information
Phone:1-815-599-7785

Year Started with FHN:
2011
To request an appointment or send a secure email to Hanny Isawi MD, visit MyFHN.

If you haven't enrolled yet, find out more!
Hanny Isawi MD
Specialty: Ophthalmology, Eye Care Services
Location: FHN Memorial Hospital, FHN Specialty Care – Harlem Avenue

I am proud to be returning to my hometown to help people care for and maintain their best eye health. As an ophthalmologist, I can perform cataract surgery as well as prescribe eyeglasses and prescribe, fit and dispense contact lenses for my patients.
Medical Degree:
University of Pittsburgh School of Medicine
Residency:
Penn State University Hershey Eye Center
Internship:
University of Pennsylvania – Presbyterian Hospital in Philadelphia, PA
Notable:
Graduated from Freeport High School with honors
Earned a bachelor's degree in biological science from the University of Wisconsin – Madison
Trained emergency room physicians on diagnosis and management of eye-related issues as a resident
Need help? Finding the right providers for you and your family is an important step in ensuring your best health. If you need help finding a provider, please call us at 1-977-6000-FHN (1-877-600-0346), ext. 965.
Many of our specialty care offices require a referral from primary care for your initial visit, so if you're already an FHN patient you may need to contact your primary care provider for more information. If you're new to FHN or don't have a primary care provider, call the number above and you'll have a primary care appointment before you hang up the phone!* Thank you for choosing FHN!
*Restrictions or requirements of health insurance carriers may apply; eligibility will be confirmed during our conversation with you.