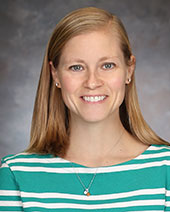 Contact Information
Phone:1-815-599-7750
Fax: 815-599-7546
Year Started with FHN:
2009
To request an appointment or send a secure email to Danielle Siedschlag WHNP-BC, visit MyFHN.

If you haven't enrolled yet, find out more!
Danielle Siedschlag WHNP-BC
Specialty: Nurse Practitioner, Obstetrics, Gynecology
Board Certification: Nurse Practitioner
Certification: Association of Women's Health, Obstetric and Neonatal Nurses
Location: FHN Specialty Care – Harlem Avenue

I graduated from Aquin High School in Freeport and am proud to be back in my hometown to help women here achieve their best health. I believe knowledge is one of the most important keys to stay healthy at any age. The more a girl knows about what is happening to her body during puberty, or a woman knows about her pregnancy or the changes she'll go through later in life, the better she'll be prepared to stay healthy.
Master's Degree:
University of Nebraska Medical Center in Omaha, NE
Notable:
Bachelor's degrees in nursing and health administration and policy from Creighton University in Omaha, NE
Specializing in adolescent care
Need help? Finding the right providers for you and your family is an important step in ensuring your best health. If you need help finding a provider, please call us at 1-977-6000-FHN (1-877-600-0346), ext. 965.
Many of our specialty care offices require a referral from primary care for your initial visit, so if you're already an FHN patient you may need to contact your primary care provider for more information. If you're new to FHN or don't have a primary care provider, call the number above and you'll have a primary care appointment before you hang up the phone!* Thank you for choosing FHN!
*Restrictions or requirements of health insurance carriers may apply; eligibility will be confirmed during our conversation with you.