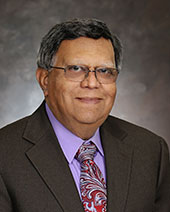 Contact Information
Phone:1-815-599-7722
Fax: 815-599-7562
Year Started with FHN:
1978
To request an appointment or send a secure email to Bhadresh A. Patel MD, FACC, FACP, visit MyFHN.

If you haven't enrolled yet, find out more!
Bhadresh A. Patel MD, FACC, FACP
Specialty: Cardiology
Board Certification: Cardiovascular Disease, Internal Medicine
Location: FHN Memorial Hospital, FHN Family Healthcare Center – Lena, FHN Specialty Care – Stephenson Street

I take pride in seeing my patients as people, not just a heart in need of care. My training in Internal Medicine as well as extensive work in invasive, non-invasive and clinical cardiology as co-director of the FHN Cardiac Services department helps me work with each of my patients to achieve their best heart function and overall health.
Medical Degree:
Maharaja Sayajirao University in Baroda, India
Residency:
Internal Medicine – St. Francis Hospital of Loyola University in Evanston, IL
Internship:
Internal Medicine – St. Francis Hospital of Loyola University in Evanston, IL
Fellowship:
Invasive, Non-Invasive and Clinical Cardiology – Albert Einstein Medical Center at Temple University in Philadelphia, PA
Professional Associations:
Fellow of the American College of Cardiology, American College of Physicians and the American College of Chest Physicians
Member of the American Medical Association
Notable:
Participant in cardiovascular research studies
Past president of the Stephenson County Medical Society
Past president of FHN medical staff
Need help? Finding the right providers for you and your family is an important step in ensuring your best health. If you need help finding a provider, please call us at 1-977-6000-FHN (1-877-600-0346), ext. 965.
Many of our specialty care offices require a referral from primary care for your initial visit, so if you're already an FHN patient you may need to contact your primary care provider for more information. If you're new to FHN or don't have a primary care provider, call the number above and you'll have a primary care appointment before you hang up the phone!* Thank you for choosing FHN!
*Restrictions or requirements of health insurance carriers may apply; eligibility will be confirmed during our conversation with you.