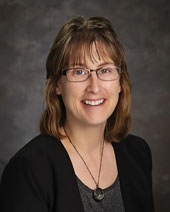 Contact Information
Phone:1-815-599-7730

Year Started with FHN:
2015
To request an appointment or send a secure email to Terri Groezinger PA-C, visit MyFHN.

If you haven't enrolled yet, find out more!
Terri Groezinger PA-C
Specialty: Physician Assistant
Board Certification: Physician Assistant
Location: FHN Family Healthcare Center – Burchard Hills, FHN FastCare

I enjoy working with patients and helping them achieve and maintain their best possible health.
Bachelor's Degree:
University of Wisconsin - Madison
Notable:
Earned an associate's degree from Highland Community College
Has cared for patients in a retail clinic setting and in a dermatology practice
PA-C

Physician assistants are found in all areas of medicine from primary medicine to surgery. They are trained to conduct physical exams, treat patients illnesses and injuries, develop and carry out treatment plans, provide preventive healthcare counseling, suture wounds, assist in surgery, order and interpret lab tests and write prescriptions.

PAs have a broad education in primary care with a specific emphasis in the practice of medicine. They are licensed to practice with a physicians supervision. Most PAs have received a masters degree in an intensive medical program lasting two to three years. After graduation, their education is ongoing through state continuing-education requirements and interaction with healthcare providers.
Need help? Finding the right providers for you and your family is an important step in ensuring your best health. If you need help finding a provider, please call us at 1-977-6000-FHN (1-877-600-0346), ext. 965.
Many of our specialty care offices require a referral from primary care for your initial visit, so if you're already an FHN patient you may need to contact your primary care provider for more information. If you're new to FHN or don't have a primary care provider, call the number above and you'll have a primary care appointment before you hang up the phone!* Thank you for choosing FHN!
*Restrictions or requirements of health insurance carriers may apply; eligibility will be confirmed during our conversation with you.