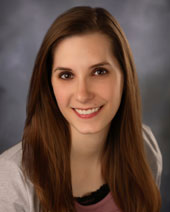 Contact Information
Current Patients: 1-815-235-3165
Prospective Patients: 1-877-600-0346 ext. 965
Fax: 815-235-7903
Year Started with FHN:
2013
To request an appointment or send a secure email to Tiffany Kuhlmeyer FNP-BC, visit MyFHN.

If you haven't enrolled yet, find out more!
Tiffany Kuhlmeyer FNP-BC
Specialty: Nurse Practitioner, Family Medicine
Board Certification: Nurse Practitioner
Location: FHN Family Healthcare Center – Highland View Drive

I am proud to be able to say that I have cared for patients at FHN since the beginning of my nursing career. I'm excited to work with patients in a new capacity, as their partner in helping them get and stay as healthy as possible.
Master's Degree:
Northern Illinois University, DeKalb
Bachelor's Degree:
Northern Illinois University, DeKalb
Associate's Degree:
Highland Community College in Freeport, IL
Notable:
Earned an associate's degree from Highland Community College and a bachelor's degree in nursing from Northern Illinois University
Has cared for patients as a med-surg nurse and has experience in ICU, Telemetry, and Obstetrics
Has cared for FHN patients throughout her nursing education and career
Need help? Finding the right providers for you and your family is an important step in ensuring your best health. If you need help finding a provider, please call us at 1-977-6000-FHN (1-877-600-0346), ext. 965.
Many of our specialty care offices require a referral from primary care for your initial visit, so if you're already an FHN patient you may need to contact your primary care provider for more information. If you're new to FHN or don't have a primary care provider, call the number above and you'll have a primary care appointment before you hang up the phone!* Thank you for choosing FHN!
*Restrictions or requirements of health insurance carriers may apply; eligibility will be confirmed during our conversation with you.