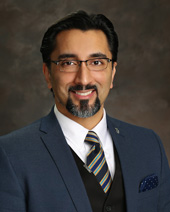 Contact Information
Phone:1-815-599-7000
Fax: 815-599-7091
Year Started with FHN:
2008
To request an appointment or send a secure email to Arshad Shaikh MD, visit MyFHN.

If you haven't enrolled yet, find out more!
Arshad Shaikh MD
Specialty: Hematology, Medical Oncology, Cancer
Board Certification: Hematology, Medical Oncology, Internal Medicine
Location: The Leonard C. Ferguson Cancer Center at FHN Memorial Hospital

I treat patients who have benign diseases of the blood, such as sickle cell anemia, as well as people who are fighting cancer. Whatever the problem, the overall approach is the same – speak to each patient about the various treatments available and work with them to develop a treatment plan designed to both effectively target their illness while maintaining and optimizing their daily lifestyle.
Medical Degree:
Ross University School of Medicine in North Brunswick, NJ
Residency:
Internal Medicine – Nassau University Medical Center in East Meadow, NY
Fellowship:
Hematology and Medical Oncology – Nassau University Medical Center
Professional Associations:
Member of the American Medical Association
Member of the American Society of Clinical Oncology
Notable:
Earned a bachelor's degree in biochemistry from the State University of New York – Stonybrook
Appeared in a segment of Mystery Diagnosis on the Discovery Health Channel
Published in several national peer-reviewed journals
Need help? Finding the right providers for you and your family is an important step in ensuring your best health. If you need help finding a provider, please call us at 1-977-6000-FHN (1-877-600-0346), ext. 965.
Many of our specialty care offices require a referral from primary care for your initial visit, so if you're already an FHN patient you may need to contact your primary care provider for more information. If you're new to FHN or don't have a primary care provider, call the number above and you'll have a primary care appointment before you hang up the phone!* Thank you for choosing FHN!
*Restrictions or requirements of health insurance carriers may apply; eligibility will be confirmed during our conversation with you.