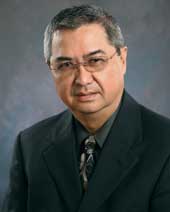 Contact Information
Phone:1-815-599-7770
Fax: 815-599-7613
Year Started with FHN:
2007
To request an appointment or send a secure email to Rafael Castro MD, FACS, WCC, visit MyFHN.

If you haven't enrolled yet, find out more!
Rafael Castro MD, FACS, WCC
Specialty: Surgery
Board Certification: General Surgery
Location: FHN Memorial Hospital, FHN Specialty Care – Stephenson Street

I look at the entire patient, not just the part of the patient that's the focus of my surgery. I believe it's important for a surgical specialist to not just be a surgeon, but a clinician as well.
Medical Degree:
University of Santo Tomas in Manila, Philippines
Residency:
Philippine General Hospital in Manila; University of Illinois Metropolitan Group Hospitals Residency Program at the Illinois Masonic Medical Center in Chicago
Internship:
Resurrection Hospital in Chicago
Professional Associations:
Fellow of the American College of Surgeons
Member of the American College of Physician Executives
Notable:
Served as Chief of Trauma Service and later Chief of Department of Surgery for Silver Cross Hospital in Joliet, IL
Chief of Staff for Silver Cross Hospital 2005-7
Wound care certified
Need help? Finding the right providers for you and your family is an important step in ensuring your best health. If you need help finding a provider, please call us at 1-977-6000-FHN (1-877-600-0346), ext. 965.
Many of our specialty care offices require a referral from primary care for your initial visit, so if you're already an FHN patient you may need to contact your primary care provider for more information. If you're new to FHN or don't have a primary care provider, call the number above and you'll have a primary care appointment before you hang up the phone!* Thank you for choosing FHN!
*Restrictions or requirements of health insurance carriers may apply; eligibility will be confirmed during our conversation with you.