Home
|
Community Services
| FHN Beyond Words Pet Therapy Program | Become Part of the Program | National Program Certification
National Program Certification
Thank you for your interest in becoming part of FHN's Beyond Words Pet Therapy Program!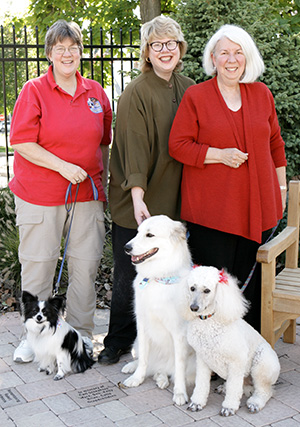 Our program helps patients and their friends and families, as well as FHN staff, benefit from the presence of certified therapy dogs who are naturally interactive and provide relief during long days in healthcare settings, helping patients and others shift their focus away from discomfort or anxiety.
All dogs in FHN's Beyond Words Pet Therapy Program are certified by accredited trainer Jan Carlson and Carlson Canine Camp in Freeport, Illinois. You and your dog will be certified as a team, and each therapy dog team must meet our strict eligibility criteria and successfully complete a nationally standardized behavioral exam.
It is not necessary for you and your dog to attend the therapy dog training course offered at Carlson Canine Camp if you have already been certified through an existing therapy dog program, but as a team, you must still pass the behavioral exam administered at Carlson Canine Camp.
Upon successfully passing Carlson's behavioral exam, the Carlson team will provide you with the necessary paperwork to finalize national certification for you and your dog. A form to be filled in by your veterinarian is part of this process to ensure that your dog is healthy and well cared for.
Please note that you will need to update your certification with the nationally recognized program annually (which can be done online, without any additional exams or classes) in order to continue as member of the FHN Beyond Words Pet Therapy Program. You will receive a reminder letter from us annually about this.
When you receive your confirmation packet from the headquarters of the nationally recognized program, please complete the FHN Beyond Words Pet Therapy Program Application, including a copy of the confirmation paperwork.